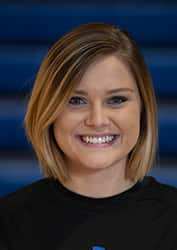 Despite sitting out this basketball season with a knee injury, Lindsey Vogl of Dakota State Women's Basketball was chosen as a Daktronics-NAIA Scholar-Athlete for the 2018-19 season. The redshirt senior from Webster, SD was named to the prestigious list for the second consecutive year.
Vogl has been an NSAA Scholar-Athlete and Academic All-District from the College of Sports Information Directors of America. Her accolades also extend to the court with the 9th most career three point field goals and the single season record in free throw percentage in the Lady T's record book.
In order to be nominated for Scholar-Athlete recognition by an institution, a student-athlete must maintain a minimum GPA of 3.5 on a 4.0 scale and must have achieved junior academic status.