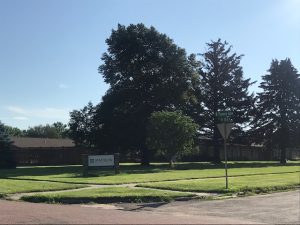 The block where the former Madison Care and Rehabilitation building stands in Madison will soon be owned by the Madison Central School District.  The Madison Central School Board approved a real estate purchase agreement with Education Heights, LLC during its meeting on Thursday. The agreement includes the property in all of Block Two of Walker's First Addition to the City of Madison, or the entire block where the former nursing home is located just to the south of Madison High School and Middle School.  The school district will pay a down payment of 150-thousand dollars, and a final payment of 600-thousand dollars in July of 2020. Superintendent Joel Jorgenson said the money to buy the property will come from the district's capital outlay, and that the district will take possession of the property in April of 2020.  
Jorgenson said that Education Heights, LLC's president is Brian Kern of Madison.  
Along with the purchase agreement, the school board also approved a demolition agreement with Education Heights, LLC for the removal of the structures on the property.  The board agreed to have the district pay a down payment of 50-thousand dollars for demolition, followed by monthly payments based on the demolition costs, including a ten-percent contractor fee.  Jorgenson said the total cost of demolition is estimated to be between 100-and-150 thousand dollars total. He said that the current building is not able to be used by the district. 
Jorgenson said the demolition is expected to be completed by November of this year.  
Board President Tom Farrell said that acquiring this property is a good opportunity for the school district.
The school board on Thursday also approved a budget amendment for the district's 2019-2020 budget to accommodate the funds needed for the land and demolition costs in this year's budget.