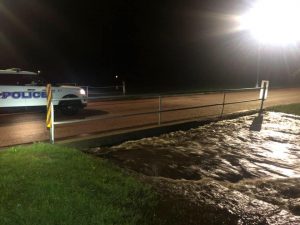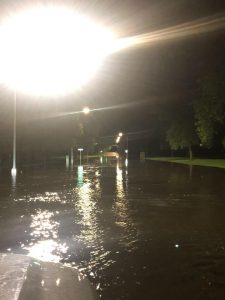 Several streets remain closed within the city of Madison as water continues to recede after heavy overnight rainfall.  The Lake County area remains under a flood warning until 3:30 this (Wednesday) afternoon and a flash flood watch will be in effect from tonight through Thursday morning as additional thunderstorms are expected with the potential of more heavy rainfall.  The rainfall total for the last 24 hours at the Madison Airport is 5.44 inches.  
Streets that remain closed currently are Northeast 2nd and 3rd Streets, as well as East Center Street, from Washington to Division Avenues.  Grant and Garfield Avenues also have areas under water. The Madison Police Department asks that people not drive around barricades and stay away from flooded areas if possible.
Madison Police Department Facebook post
UPDATE from Lake County Emergency Management:
The City of Madison Street Department is offering sand and sandbags to those citizens of Madison who need or want them at 435 S Highland Avenue.
For those who want a place to get dry or away from their home, they can go to the City Armory.
If you need information on how to clean up your home due to water or have any questions, PLEASE call 211.
DO NOT call 911 for anything other then a true emergency.