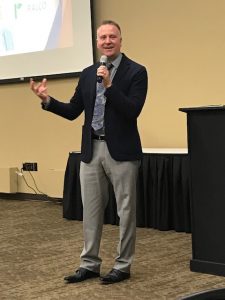 Those attending the annual meeting of the Lake Area Improvement Corporation in Madison on Thursday learned more about how the trū Shrimp Company came to be from the Chairman of its Board of Directors Brian Knochenmus.  The trū Shrimp Company announced in January that it is planning to build its first shrimp production facility, called the Madison Bay Harbor, in the Lakeview Industrial Park in Madison.
Knochenmus is the President and CEO of Ralco Nutrition, which is a science and technology company that provides natural alternatives to the livestock, poultry, aquaculture and crop industries in more than 30 countries worldwide.  He said that while working on aquaculture products, Ralco was eventually chosen and granted the exclusive rights to develop the technology and system that had been developed by Texas A&M researchers and turn it into a commercial venture.  That, Knochenmus said, is what led to the trū Shrimp Company being incorporated in 2017 in Balaton, Minnesota, and now expanding to Madison.
Knochenmus also explained why Ralco decided to pursue shrimp production instead of some other area.
Knochenmus said that 92-percent of shrimp is imported and is often tainted with bacteria or antibiotics.  He said that trū Shrimp's method will bring the shrimp away from disease and to the feed.
Knochenmus said that Madison Bay Harbor will produce nine-million pounds of shrimp annually, and they hope to eventually expand to multiple harbors throughout the upper midwest.