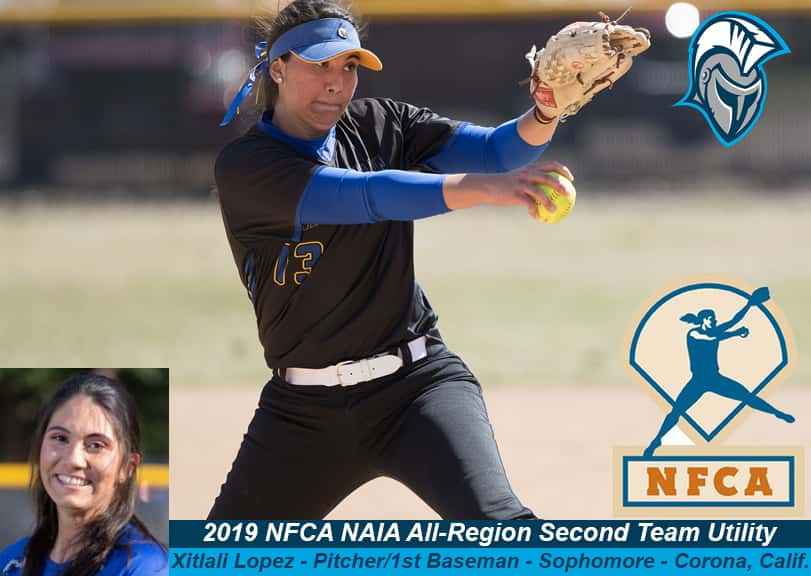 The versatility of Dakota State Softball sophomore Xitlali Lopez has been recognized once again by the National Fastpitch Coaches Association (NFCA). Lopez was named to the All-Region III Second Team for the second consecutive year, this time as a utility player.
Lopez smashed 7 home runs and collected 31 RBIs with a .364 batting average this season for the Trojans. Her presence was also felt in the pitcher's circle with 14 complete games, 114 ⅓ innings pitched, and was named the NSAA Softball Gold Glove winner.
Lopez improves from last season's All-Region Second Team At-Large bid and took home NSAA All-Conference First Team honors for the second straight year. Dakota State Softball was 9-35 overall and finished 6-21 in NSAA Conference games in 2019.
Below is the complete list of the NFCA NAIA All-Region III Second Team:
2019 NFCA NAIA All-Region III Second Team
Position
Name
School
P
Kylie Doson
Oklahoma City
C
Jessie Isham
Corban (Ore.)
1B
Tayler Walker
Southern Oregon
2B
Hannah Shimek
Southern Oregon
3B
Morgan Nixon
Morningside (Iowa)
SS
Ellie Bliemeister
Bellevue (Neb.)
OF
Payton Carli
Arizona Christian
OF
Leilani San Pedro
Arizona Christian
OF
Olivia Mackey
Southern Oregon
UT
Xitlali Lopez
Dakota State (S.D.)
At-Large
Vanessa Dwyer
Vanguard (Calif.)
At-Large
Alexandra Stines
Southern Oregon
At-Large
Mariclea Egan
Bellevue (Neb.)
At-Large
Elsy Guzman
Arizona Christian
At-Large
Hallie Misiaszek
Morningside (Iowa)
At-Large
Christie Betker
McPherson (Kan.)