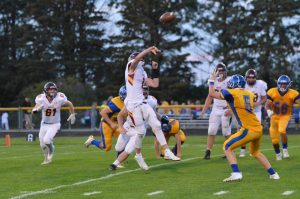 Tyler Tappe threw for over 300 yards and three scores, and the Madison Bulldogs improved to 2-0 with a 34-21 win over Canton on Friday night. Madison grabbed the first lead of the game late in the 1st quarter, when Tappe connected with Carter Bergheim for an 81 yard TD. Canton responded in the 2nd quarter with a pair of rushing TD's from Shaeden Scheidt, to put Canton up 14-7. Tappe and Bergheim hooked up for another score, this time from 39 yards out, with 2 minutes left in the 1st half.
The Madison defense came alive after halftime. Bergheim and Brock Minnaert both picked off passes from Seth Peterson, and Daniel Swenson recovered a fumble for the Bulldogs. Those turnovers helped to set of TD runs from Tappe and Trey Smith, as well as a receiving score from Mason Avery. The C-Hawks only score in the 2nd half came on an 83 yard kick return from Kayden Verley. 
Tappe finished with 303 yards passing, and 4 total touchdowns. Bergheim caught 6 passes for 194 yards and 2 scores, Jacob Unterbrunner added 7 receptions for 36 yards. The defense for Madison was led by Swenson, who record 6 tackles and 2 sacks. Cody Brown had 9 tackles and 1.5 sacks for the Bulldogs. 
Shaeden Scheidt ran for 85 yards for Canton. Verley was held to -8 yards rushing, after begin sacked 3 times. 
Madison will be on the road again next week to take on the 2-0 Dell Rapids Quarriers. Canton in search of their first win of the season, will travel to Pine Ridge next Friday.