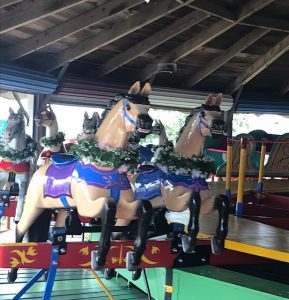 It's renovated and rejuvenated and ready for people of all ages to enjoy once again.  The historical Herschell-Spillman carousel at Prairie Village is back up and running after spending more than a year-and-a-half going through restoration at Carousel Works in Ohio.  A Welcome Home celebration for the carousel was held Saturday at Prairie Village.  Manager Faron Wahl said Saturday was a special day for the Village and those involved in the carousel's restoration.
Wahl said that Carousel Works determined that the carousel was first built in the late 1800's or early 1900's in New York, spending time in different locations before it became part of Prairie Village in 1966.  Fifty years after that date, the carousel was taken to Ohio to be restored.  Wahl thanked the many different people who helped make the restoration project possible, one of which included the group called the Prairie Pasque Questers, which held a number of fundraisers to raise more than 17-thousand dollars for the carousel project. Questers President Gwen Larson credited one of the group's members for getting their interest in the project started.
Five different grants also helped in the cost of the restoration project.  Wahl said that more than 55-thousand dollars in grants was received, through the help of grant writer Cecelia Wittmayer of Howard.
Ted Spencer with the State Historical Society said Saturday that the carousel is unique and is listed on the National Register of Historic Places.
After Saturday's ceremony, which also included a ribbon cutting by the Greater Madison Area Chamber of Commerce, Wahl announced the sixteen special guests who got to take the first ride on the newly restored carousel.  Special wreaths were also placed on eight of the horses on the carousel to signify and honor the eight founders of Prairie Village as well.