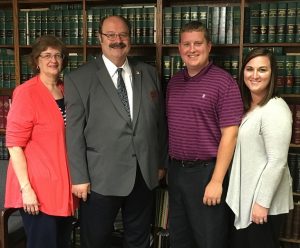 A Madison business is under new ownership.  The Ellsworth Funeral Home in Madison and the Willoughby Funeral Home in Howard will now be owned by Alex and Brooke Nurnberg.  The Nurnbergs purchased an interest in the funeral homes from Robert and Cindy Ellsworth.  Ellsworth will assist with the business when needed and will continue as sexton of Graceland Cemetery.
The Ellsworths purchased the business from the Hallenbeck family in 1979, and said that  after close to forty years, they are now looking forward to traveling and spending more time with their grandchildren.
Terry Lee will continue to manage the Willoughby Funeral Home in Howard, and Family Service Counselor Sue Janssen will assist the Nurnbergs when needed.  The Nurnbergs plan to honor all pre-arranged and pre-paid funerals at both locations.
Alex Nurnberg is a Watertown native and worked at funeral homes in Clark and Watertown before joining the Ellsworth and Willoughby Funeral Homes in April of 2017.