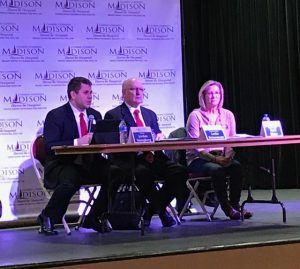 A variety of issues were presented to District 8 legislators on Saturday as part of the Madison Chamber of Commerce's Legislative Cracker Barrel.  District 8 Senator Jordan Youngberg, along with Representatives Leslie Heinemann and Marli Wiese took questions and heard concerns about legislation during the cracker barrel held at the Madison High School Auditorium.
One of the issues presented to legislators Saturday was House Bill 1120.  Madison Central School Board President Tom Farrell asked their opinion on the bill, which he said would change how school districts handle home schooled students and their participation in extra-curricular activities.
Representative Wiese, who serves on the House Education Committee, said she believes it is more of a larger district problem but is not completely sure how she will vote on the measure yet.
Farrell said that Madison has a policy that home-schooled students must enroll in one class in order to participate.  He said that the school board believes that this bill is over-reaching by the state government.
Representative Leslie Heinemann referenced a previous bill involving the school sentinel program in which some school boards wanted the state to control the issue, but now he said that school districts want local control on this particular issue.
Senator Jordan Youngberg said he questions the funding involved.
Some of the other resolutions and bills that the legislators on Saturday heard from constituents on included ones regarding terrorism, the initiated measure process, and university collective bargaining.