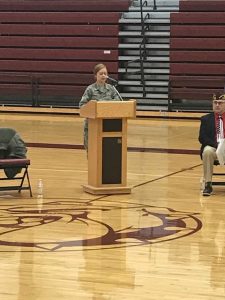 With Veteran's Day falling on a Saturday this year, the annual Veteran's Day program in Madison was held on Monday at the Madison High School gym.
Recent Madison High School graduate Harly Koenig, now an Airman with the South Dakota Air National Guard, told those attending Monday's ceremony that she never thought she'd be in the position she's in now.
Koenig said that she knows she made the right decision in joining the Guard.
Koenig said she spent two months in basic training, which she said had its share of challenges.
Koenig said that the military is now like a second family to her, and that what she has learned so far will stay with her forever.
Along with music by the Madison High School Choir and Band, Monday's program also included essays read by Middle School students Abbey Allen and Abby Morse.  Veteran representatives of the Madison Central School District also presented 500-dollars to the local VFW and Legion organizations.  The money was raised through a staff jeans day held on November 8th.