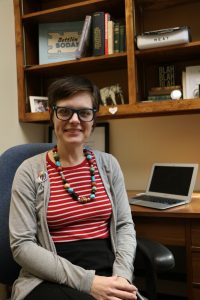 A Dakota State University associate professor has been chosen to take part in a new program created by the Bush Foundation.  Stacey Berry, an associate professor of English for New Media at DSU, has been chosen as a fellow with the South Dakota Change Network.  This program is a cohort of fifteen people who are being given the opportunity to build their self-awareness, leadership abilities and systems-change skill sets.
Berry's group includes members from a variety of professions, a finance manager, public defender, journalist, economic developer, youth director, and tribal representatives.  The members come from all parts of the state.  Berry has worked with campus and community groups for eight years to effect change.
At the conclusion of the year-long fellowship, the members will also be able to apply individually for five-thousand dollar grants.  Berry said that her work in the fellowship should have a positive effect on DSU and Madison.