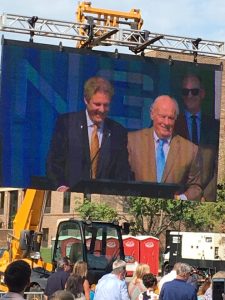 Dakota State University alum Miles Beacom, who first started as a student at the university in Madison 40 years ago, said that he owes his success and now his willingness to give back to the college where he got his start.
Beacom was a major donor as well to the Beacom Institute of Technology, which opened its doors on Sunday.  His next gift of 30-million-dollars, along with Denny Sanford, all came about he said because of the state and the university's leaders.
Governor Dennis Daugaard said that by the year 2020, organizations are expected to spend more than 101-billion dollars on cybersecurity efforts to protect systems and data, and the Beacom College will be a major boost for DSU and Madison, as well as the entire state.  He said that with these gifts, Madison can continue to create a new economic development cluster which will attract high paying jobs, give former students the ability to "come home", create cutting edge companies, and grow the state's economy.
DSU's gift announced on Sunday is one of the largest single gifts to higher education in South Dakota history.