Brought to you by:
Dairy Queen, City of Madison, SD Game, Fish & Parks, Dan O's Marine,
Classic Corner, 2nd Street Diner, Madison Chamber of Commerce, Pro Build,
Madison Automotive Service, LAIC, Sunshine Foods, Tire Motive, Los Tapatios,
Stadium Sports Grill, Madison Ace Hardware, Madison Regional Health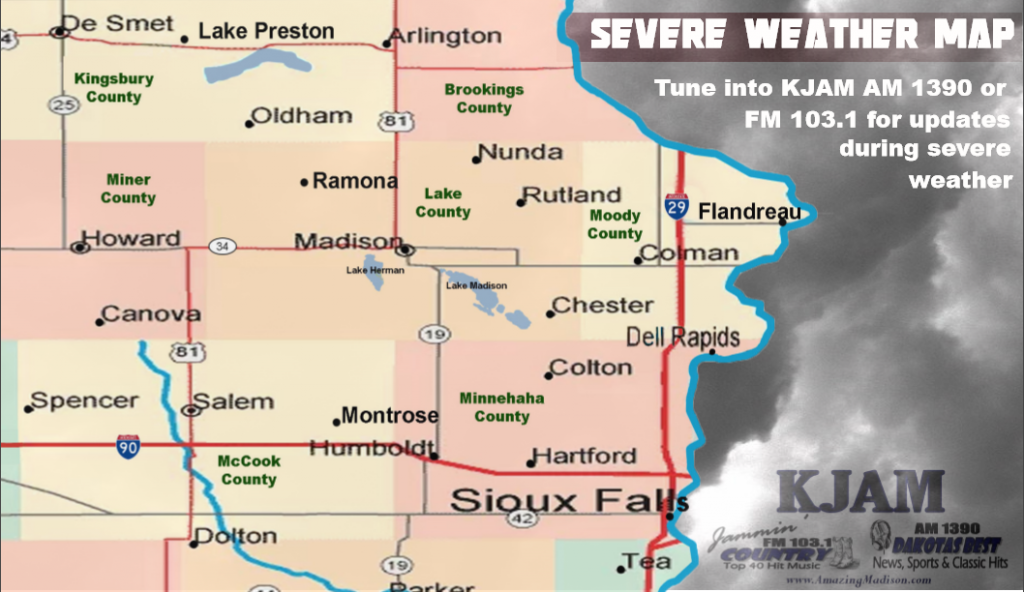 Disasters can strike quickly and without warning. You could be anywhere—at work, at school, or in a car. What would you do if basic services – water, gas, electricity or telephones were cut off? Families can cope with disasters by preparing in advance and working together as a team. Knowing what to do is your best defense against the burden of a disaster. Being prepared and understanding what to do can reduce fear, anxiety, and losses that accompany disasters. You should know how to respond to severe weather or any disaster that could occur in our area.
There is a wealth of imformation available to help you prepare for a disaster. bReadySD.com is a great place to start. Also, download the  2015_Severe_Weather_Guide
When severe weather strikes, make sure to listen to KJAM Radio – 103.1 FM and 1390 AM for the latest local weather information.